There are some really ugly things on Craigslist you can find. But sometimes you need the ability to look past the face of the object, and really see it's bones. Even the ugliest, most run-down piece can be a gem just waiting for a little elbow grease to give it new life.
For starters, this bench on the left:
The lines are a little modern for me, and according to the description there is a small tear and burn mark. But for $10, its nothing that couldn't be repainted and upholstered and look brand new. With a slip cover over it, it would be shabby and chic. It could be used as a bench in an entryway, as a coffee table in a living room, or at the end of a bed. A little TLC and this little gem could be used time and time again. Did $10 ever get you such a versatile piece of furniture before?
Next are these eye-popping dining room chairs. Yikes, talk about floral overload.
However, these chairs have great shape to them, and they look comfy too. The bones appear to be strong, so these would be a long lasting purchase. Of course, the issue of the floral uphostering is a little unnerving. But, it's nothing that a slipcover couldn't disguise. I like the idea of slipcovers on dining room chairs because it makes for clean up a lot easier than scrubbing each chair by hand, just throw the covers in the wash and relax for a while.
See how great slipcovers can look over this style of chair?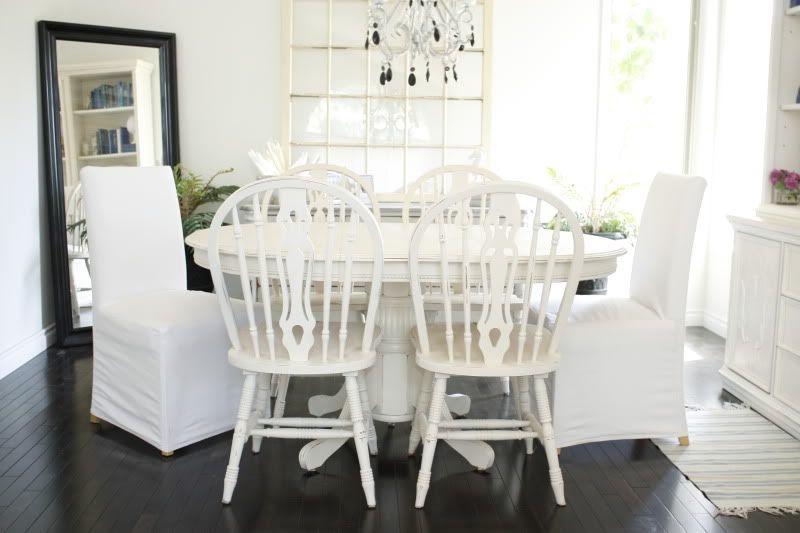 Photo courtesy of
Life in The Fun Lane

Although I'm partial to the looser-fitting slipcovers. They add more of a casual relaxed feel.