I'm pretty sure I could just squeel after showing you all this post, I am sooo digging what I spent my whole day doing. You see my mother in law bought me this perfect little breakfast table for our kitchen a few years ago for my birthday. A lovely table really....just a little...plain, shall we say. (Pretend that large streak of white isn't there, I'm great terrible at remembering to take before pictures)
I started off knowing I wanted to paint it cream, since that's what I had sitting around, and I was determined I wasn't going to leave the house for any part of this project. Period.
After a few coats of paint she was looking mighty fine, but just missing...something. How about a little numbered accessory? Yes, I think that will do the trick.
I started by drafting out my numbers in paint.net (do you have this? You should, it's free.)
And then I traced them onto notebook paper, because it's all I could find.
Then, using the point of a retractable pencil, I traced over the lines leaving indentions in my dry, but still plyable, paint.
After I had my outline indented in the paint, I just filled it in with black acrylic paint and a fine tipped brush. It wasn't perfect, but I don't want my projects to feel over-burdened, I don't want them to feel like the have to be perfect. I'll still love them anyway.
After that she got a little lot of distressing. Lookin' mighty good. But still missing...something. I have been noticing a lot of antiquing glaze being used on projects lately, but I didn't have any of that. And remember I wasn't leaving the house today. So...I made my own. Sorta.
This is a very technical process. I started with some leftover paint from Lincoln's room - CP Natural Bark - and added a splash of water (see, I told you - technical), but I needed to give it more of a glaze-y substance, so I dug out some Puzzle Glue from the cabinets. Mixed a little of that in there, stirred it together, and voila! Glaze. Sorta.
Most glazes you paint on and then rub off with a towel, but I used a different and much more technical process - I wiped it on with my finger. And wiped off any excess with...my other finger. I just ran it along the edges, especially where I had distressed, it added...something. I'm not sure exactly what that something is, but I like it. So the end product looks something like this -
And I adore it. Squeel!
I am linking up to Miss Mustard Seed's Furniture Feature Friday
Funk Junk's Saturday Nite Special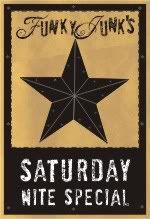 Tater Tots and Jello's Weekend Wrap Up
Cottage Instinct's Make It For Monday
And Twice Remembered's Make Your Monday